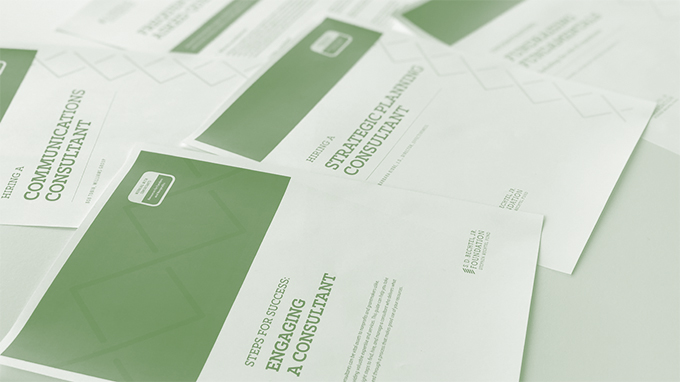 Maximizing Value from External Expertise and Services
There are almost as many reasons to hire a consultant as there are consultants. Organizations look to outside providers to access needed knowledge, analyze and make recommendations on significant issues, conduct pre-defined tasks, facilitate group decision-making, and much more.
Aligning the right consultant with an organization's need, budget, and work style can generate significant benefits for all involved. But no single consultant can do everything, and client organizations often have a lot at stake when they engage an outside service provider.
The resources below can help funders and nonprofits work with consultants successfully.
This guide can help nonprofits and grantmakers take the necessary steps to find, hire, and manage a consultant who delivers what you need through a process that makes good use of your resources. It features nine steps that can help frame your approach and includes links to helpful tools and information sources.
Nonprofits and grantmakers engage consultants for a variety of needs. These responses to commonly asked questions can help you, and your consultant, get the most from each interaction.
Looking across your organization and its work to find and describe the most effective path forward can be exhilarating. This guide can help you identify the strategy approach most suited to your needs, and the qualities to look for when engaging a strategy consultant.
Communication involves the purposeful delivery of information to create awareness, understanding, or action. It's a big topic, with application to virtually everything an organization does, inside and out. This brief tutorial can help people working in foundations and nonprofits effectively engage with communication consultants.
Nonprofits and grantmakers who commit to continuous learning and improvement can have greater impact. But many organizations are reluctant to engage evaluation consultants. This guide can help demystify the process of hiring and partnering with an evaluator – so you can measure what matters.
Fundraising encompasses the range of activities involved in identifying, cultivating, soliciting, and stewarding relationships with donors who can provide money or other resources to enable a nonprofit to pursue its mission. This brief can help you understand the fundamentals involved with fundraising, and inform your use of fundraising consultants.
Realizing the full value of consulting services requires a careful approach to selecting, contracting, and managing consultants. This guide to writing a strong RFQ can help you find the right fit – an individual or firm that is not only capable of completing the work effectively, but also has a disposition and work style that will mesh well with your team.