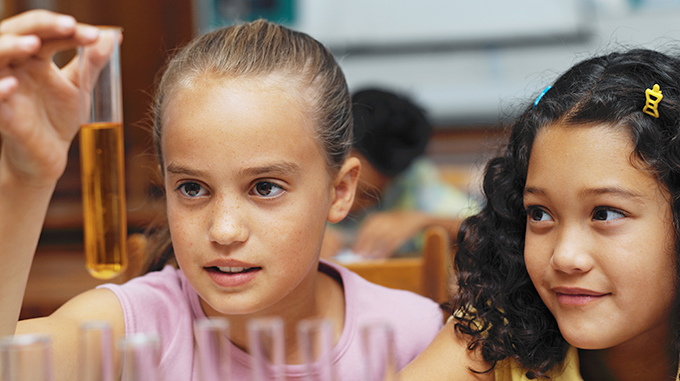 Every school day is an opportunity.
In the classroom, students develop the skills they need to participate fully in the twenty-first century economy and community. Teachers are routinely cited as the single most important contributor to student achievement.
New academic standards in California that emphasize critical thinking and problem-solving require new approaches to teaching. These standards and soon-to-be updated credentialing requirements present an opportunity to ensure that both current and future educators are prepared to provide students with the knowledge and skills needed for success.
STRATEGIES
Advancing Teaching and Learning
The Foundation invests in high-quality models of math teaching and learning in California's K–8 classrooms through full implementation of the Common Core State Standards in Mathematics (CCSS-M) and Next Generation Science Standards (NGSS).
The Foundation seeks to advance math and science teaching and learning in California's K–8 classrooms by supporting districts that are strongly committed to CCSS-M and NGSS implementation, and by disseminating lessons learned across the state.
The Foundation is investing in its Math Portfolio grantees to:
Support K–8 CCSS-M implementation in ten diverse districts to develop successful approaches; share promising practices statewide (Math in Common® initiative).
Build the capacity of statewide networks and systems (e.g., Instructional Leadership Corps, County Offices of Education) to support CCSS-M implementation.
Invest in CCSS-M advocacy efforts that emphasize the need for high-quality professional development.
Fund communications efforts to maintain support for CCSS-M among teachers, students, parents, policymakers, and all other education stakeholders.
The Foundation is investing in its Science Portfolio grantees to:
Support K–8 NGSS implementation in eight diverse districts to develop successful approaches; share promising practices statewide (NGSS Early Implementers Initiative).
Support statewide scaling through the Instructional Leadership Corps and County Offices of Education.
Invest in advocacy efforts to make NGSS science a core subject.
Download snapshots:
Math Portfolio (PDF)
Science Portfolio (PDF)
Preparing New and Future Educators
The Foundation invests in high-quality preparation and learning to enhance the skills of new and future educators as they build practices aligned to new academic standards.
The Foundation seeks to ensure that students throughout California have access to teachers who are ready to support learning aligned with the Common Core and Next Generation Science Standards.
The Foundation is investing to:
Support selected partnerships between K–12 districts and California State University (CSU) teacher preparation programs in their efforts to advance teacher preparation practices to align with new standards as well as district needs.
Fund exemplary clinical preparation and data-sharing partnerships to increase alignment between district needs and teacher preparation.
Support advocates in their work to promote clinical preparation and data sharing.
Download snapshot:
Teacher Preparation (PDF)
GRANTEE HIGHLIGHTS

Learning Together and Building Capacity for Math Instruction

Math in Common® supports diverse California school districts as they implement the Common Core State Standards for Mathematics (CCSS-M) across grades K–8. The initiative spans 2013 to 2020.

The California math standards demand deep and broad shifts in classroom instruction. The initiative builds leadership capacity within each district, and supports districts in developing and carrying out a continuous improvement plan for implementing the math standards. These districts are providing a system of supports for teachers, including professional learning delivered at their school sites. Each district is also working to build an internal culture of learning and improvement – including the use of data to fuel enhanced instructional practice.

A community of practice managed by California Education Partners supports professional learning in each district and provides a means for discussing effective strategies, examining common challenges, and sharing tools as well as lessons learned across districts. Learning formats include convenings of district administrators and school principals, topical workshops led by expert consultants as well as district personnel, and summer sessions for principals and math coaching faculty. Technical assistance is available to each district leadership team to help with unique challenges and to solve local problems of practice.

WestEd provides developmental evaluation and technical assistance services to the districts. Access more information and reports at MathInCommon.org.

Ten districts received Math in Common Grants: Dinuba, Elk Grove, Garden Grove, Long Beach, Oakland, Oceanside, Sacramento City, San Francisco Unified, Sanger, and Santa Ana. Collectively, these districts serve almost 300,000 K-8 schoolchildren and serve nine percent more low-income students and six percent more English learner students than the average for schools statewide. Two districts, Garden Grove and Long Beach, concluded their grants in Summer 2018; the other districts continue in the initiative's second phase ending in 2020.

---

Implementing Next Generation Science Standards (NGSS)

Eight California school districts are bringing science to life as a core subject through the NGSS Early Implementers Initiative. The progress, experiences, and lessons from this diverse group can inform all districts implementing NGSS. The initiative is managed by the K-12 Alliance of WestEd; it spans 2014 to 2020 and focuses on NGSS implementation in grades K-8.

In each district, the initiative is guided by a core leadership team of teacher leaders and administrators who participate in professional learning and coaching activities. Teachers engage in science lesson studies twice each year through a Teaching Learning Collaborative.

Early Implementers are demonstrating the benefits of science instruction that is inquiry-based and student-centered. Their experience shows that teachers, schools, and districts – regardless of their relative experience with science – can instruct to the rigorous new standards.

The initiative is evaluated by WestEd's STEM Evaluation Unit independent of the K-12 Alliance. View evaluation reports.

Participating public school districts are: Galt Joint Union Elementary, Kings Canyon Unified, Lakeside Union, Oakland Unified, Palm Springs Unified, San Diego Unified, Tracy Unified, and Vista Unified.

---

Preparing Teachers in Math and Science

Inspired by the belief that all California students have the right to receive a high quality education and all California teachers have the right to be prepared to teach at the highest level every day, the New Generation of Educators Initiative seeks to ensure that graduates of California State University (CSU) teacher preparation programs enter the classroom truly ready for the joys and demands of teaching. Through this and other initiatives, the CSU is leading the way in advancing the new Common Core and Next Generation Science Standards. As the largest preparer of teachers in the state, the CSU also has an unparalleled ability to bring innovation to scale.

The initiative spans 2014 through 2019. With active support from the CSU Chancellor's Office, eleven CSU campuses are involved in deep partnerships with local school districts to prepare teacher candidates to enter the classroom with the knowledge and abilities needed to effectively instruct students. This includes helping candidates develop a set of prioritized skills identified as important in the context of each local school district. Candidates gain these skills through a program of study at the CSU that is integrated with practical experience instructing in district classrooms – and receiving coordinated, continual feedback from mentor teachers and CSU supervisors. The use of data to drive improvement in the skills of individual candidates and enhance the design of their teacher preparation programs is another hallmark of this initiative.

Partnerships are underway in the following California locales: Bakersfield, Channel Islands, Chico, Dominguez Hills, Fresno, Fullerton, Long Beach, Monterey, Sacramento, San Luis Obispo, and Stanislaus.