Developing Good Character in Young People
In our increasingly complex, interconnected, and globally competitive world, youth need values that will guide them to act with integrity and responsibility for themselves, others, and their communities, and the skills and knowledge to become productive society members and leaders. Intentional programming and positive, meaningful relationships with adults are the path to developing these traits.
Both in and out of the classroom, adults serve as important mentors and role models who can foster positive decision-making and character strengths in youth. Because the role of teachers, youth workers, and volunteer mentors can be pivotal in developing strong character, the Foundation focuses on supporting effective adult practice to impact good character outcomes in young people.
"Staff training, skills, & relationships with youth are the strongest predictors of social-emotional learning developmental outcomes." Handbook of Child Psychology (Vandell et al., 2015)
STRATEGIES
Enhancing Character Development Practice
The Foundation invests in youth-serving organizations in California and across the nation that are committed to using data to improve and sustain at scale the character development practices of adult staff and volunteers.
The Foundation engages with youth development partners to identify promising adult practices that build youth character, and helps these organizations translate this knowledge into trainings and professional development for adult staff and volunteers.
The Foundation is supporting its grantees to:
Develop knowledge of evidence-based practice for the field.
Invest in systems to support effective adult staff and volunteer practice.
Invest in proven or promising models that have demonstrated impact.
Support district partners in implementing, evaluating, and learning from Social-Emotional Learning (SEL) initiatives.
Elevate standards, continuous improvement, and SEL programming within California after-school providers.
Learn more: Strategy Snapshot (PDF)  |  Staff Reflections (PDF)  |  Approach to Evaluation (PDF)

Related Resources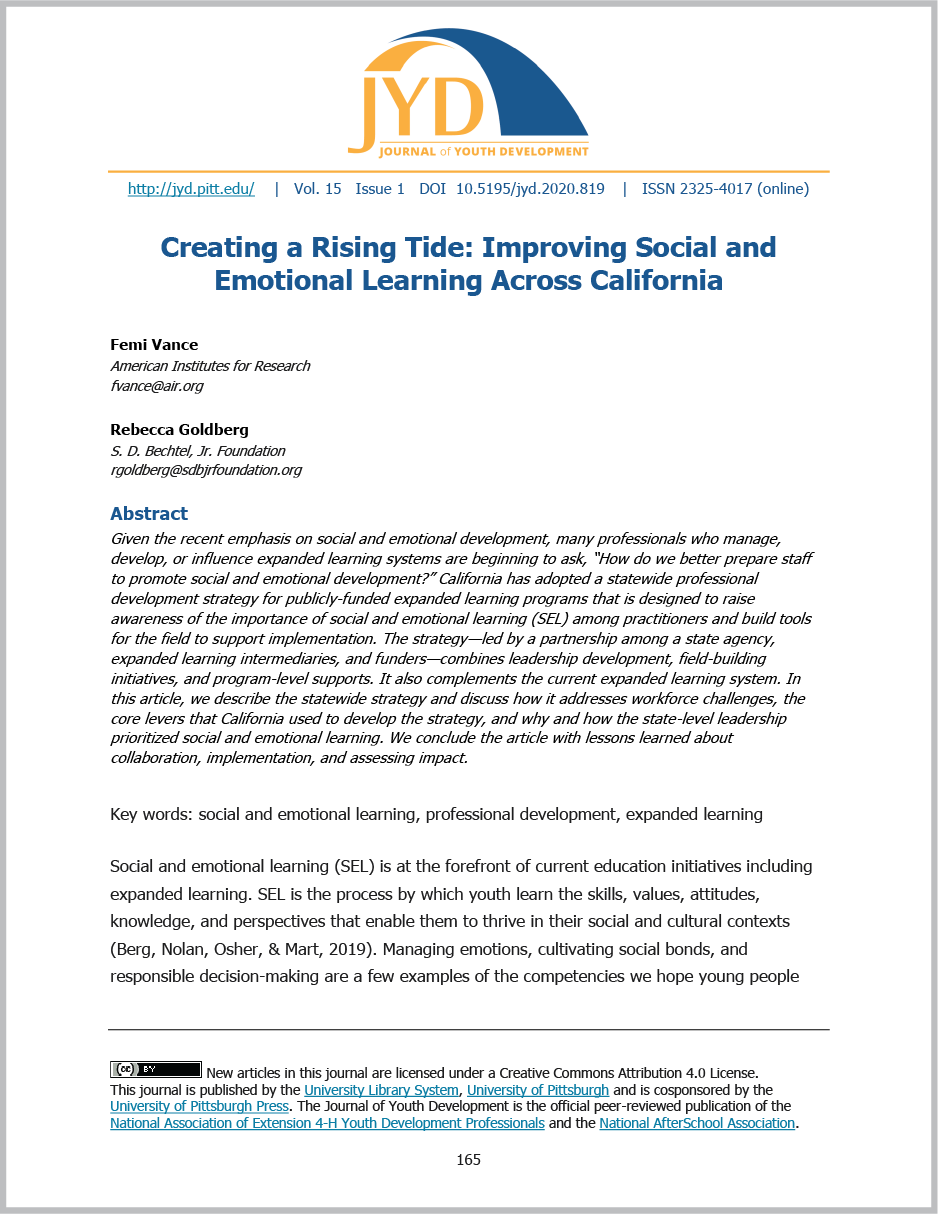 GRANTEE HIGHLIGHTS

Advancing Best Practices to Impact Communities

The Y strives to strengthen communities through youth development, healthy living, and social responsibility. Its nationwide network of 2,700 locations engages 22 million men, women, and children. Character is a key element of the Y's approach to working with youth, helping children develop into ethical, caring, and successful adults for over 160 years. With Foundation support, the Y created the Character Development Learning Institute (CDLI) in 2016. Through the CDLI, the Y is discovering, testing, and disseminating best practices in character development to influence millions of youth in positive ways.

---

Improving Youth Character Development Practices

For more than a century, Boys & Girls Clubs of America has pursued a singular mission: to enable all young people – especially those in greatest need – to reach their full potential as productive, caring, and responsible citizens. Its nationwide network of over 4,100 Club facilities serves nearly four million young people ages 6-18 each year. Led by 52,000 trained adult professional staff and 235,000 program volunteers, the Boys & Girls Clubs of America provides youth with character development programs that foster a commitment to learning, positive values, healthy habits, and high expectations for success as an adult. With support from the Foundation, Boys & Girls Clubs of America will enhance its system of continuous learning and adult practitioner training to ensure all youth are receiving the best possible programing for developing the next generation of leaders.

---

Developing Young Leaders

Founded in 1902, 4-H National Council supports youth in the development of citizenship, leadership, responsibility, and life skills through experiential learning programs. With a network of more than 540,000 volunteers, 3,500 professionals, and more than 25 million alumni, 4-H serves more than 6 million youth ages 5 to 21 in all 3,007 counties of the United States. The name "4-H" represents four personal development areas of focus for the organization: head, heart, hands, and health.

In 2012, 4-H developed the Common Measures, a standardized set of youth development outcomes to improve the quality of adult practice across their national network. With Foundation support, 4-H will enhance the Common Measures to inform evidence-based improvements to programs and professional development practices.

---

Inspiring Girls

Girls Incorporated is dedicated to inspiring all girls to be strong, smart, and bold. Girls Inc. nationally reaches 140,000 girls and young women through its nationwide network of over 80 affiliates. With support of the Foundation, Girls Inc. is focusing on enhancing its data collection and measurement infrastructure to inform and improve programming and ultimately ensure that girls across the country receive the same "High Quality Girls Inc. Experience." Girls Inc. is building a data dashboard for affiliates to track organizational performance and is supporting a diverse group of affiliates – representing a range of demographics, sizes, and service models – to pilot the data collection protocol and serve as peer leaders as the system is launched network-wide.