Stories
>
Environment
The Center for Watershed Sciences enhances our understanding of the state's water systems, informing their management.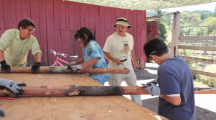 LandPaths brings together community volunteers as environmental stewards, building a future where fewer financial resources are needed to maintain public lands.
California's 280 state parks provide irreplaceable environmental, economic, and social benefits. Protecting these benefits over the long term is vital.